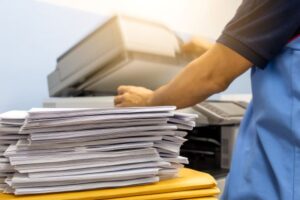 Business owners often need clarification about whether to choose double-sided or single-sided printing. Each approach has advantages and disadvantages, but which is the best overall? This blog will give you a better explanation of which one can work best for you.
Double-Sided Printing
Also known as duplex printing, printing has pros and cons on both sides of a piece of paper. You can easily track whichever document you want as the pages are bound together. Therefore, they're a lot less likely to get lost. Printing on both sides of a page can cut your paper usage in half. You'll not only save money, but you'll also reduce your company's environmental impact. 
Unfortunately, some printers don't support double-sided printing. Also, you might need to set up unique configurations to get that setting to work. Double-sided printing requires more ink, which makes it more expensive initially.
Single-Sided Printing
As we discovered with double-sided printing, there are also pros and cons to choosing single-sided printing. If you want to reduce your printing costs, there is no better way than to choose single-sided printing. Your printer will use less ink, which makes it more cost-effective. It is also easier to use as you only have to load the paper and print. It also is a solid choice for any printer. However, documents are less organized, waste less paper, and look less professional. 
Tips For Choosing Double-Sided Printing
There are several times when choosing double-sided printing will work in your favor. It should be your first consideration anytime you need your documents to look more professional. It's also a great decision if you want to save paper or if you're planning to print a postcard, invitation, etc.
Tips For Choosing Single-Sided Printing
Single-sided printing is appropriate for when you don't need to look professional. For example, if you need to print some documents to help you create a brand-new document, you could print them single-sided. You'll save some money and won't have to mess with the printer's settings. If you don't need to print on both sides for business reasons, it's a good idea to stick to single-sided printing.
Trust FORMost Graphic Communications for Printing and Marketing Needs Today!
FORMost Graphic Communications proudly provides high-quality print and marketing solutions that produce results for your business. Since 1985, we have been providing an array of services for both national and international clients across a wide variety of industries, including all levels of government. As a privately-held company based in the Washington DC area, we are dedicated to providing exceptional services and products to each of our client's unique marketing needs. To learn more about our products and services for your marketing and print needs, contact us today at 301-424-4242, or visit us on Facebook, Twitter, or Linkedin for more information.