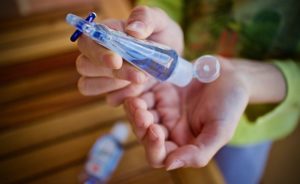 Healthcare is an essential aspect that concerns and benefits everyone. Maintaining good health can range from consuming a nutritious diet to using personal protective equipment. Recent times have urged the adoption of exceptional measures to sustain the well-being of all, but health will remain a crucial aspect for all times to come. As your company determines its marketing plan, consider incorporating healthcare promotional products on your priority list to help enhance your brand. 
Cotton Face Masks
As we look towards the future, there may come a time when wearing masks is no longer necessary. However, currently, it is still a good idea to provide your employees with a reusable cotton mask, free of cost. FORMost Graphic Communications offers a variety of cotton masks in different colors that can also be customized with your company's logo. It's always better to be prepared. Having an extra mask on hand when going to the grocery store or any indoor space can be helpful.
Hand Sanitizer
FORMost Graphic Communications not only provides printing services but also offers hand sanitizers for your convenience. Whether you're on the go or at the office, our sanitizers come in handy when washing your hands is not an option. We offer four different types of hand sanitizers, including one in a wipe form for easy use. These sanitizers are also great for employee and customer giveaways. 
First Aid Kit
It is always a wise decision to have a first aid kit at home and in your vehicle, as emergencies can happen at any time. At our store, we provide a range of portable first-aid kits to select from, ensuring you have the right tools to handle any unforeseen situations.
Drinkware
FORMost Graphic Communications is a reputable provider of promotional products, known for its wide selection of drinkware items such as water bottles, thermoses, and tumblers. These products offer a practical and stylish way to promote your brand and make a lasting impression on your customers.
Trust FORMost Graphic Communications for Printing and Marketing Needs Today!
FORMost Graphic Communications proudly provides high-quality print and marketing solutions that produce results for your business. Since 1985, we have been providing an array of services for both national and international clients across a wide variety of industries, including all levels of government. As a privately-held company based in the Washington DC area, we are dedicated to providing exceptional services and products to each of our client's unique marketing needs. To learn more about our products and services for your marketing and print needs, contact us today at 301-424-4242, or visit us on Facebook, Twitter, or Linkedin for more information.