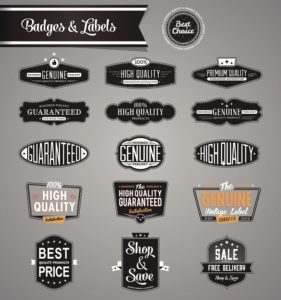 If you are in the automotive industry, you are aware that marketing is crucial for your business. As with any other business, you need to find the best ways to reach out to your target audience. In most cases, the aim is to have the widest reach possible. FORMost Graphic Communications can assist your automotive business in achieving its marketing objectives with customized label products. Contact us today to learn more about how we can help you make a mark in the industry.
Promotional Sheets
Effective marketing doesn't always have to be complicated or expensive. We provide die-cut sheets in full color, available in both standard and custom sizes. These sheets can contain up to 15 labels and are repositionable without leaving any residue. A promotional label sheet is a simple yet effective way to promote your brand and communicate important information to your customers.
Static Cling Labels
Static cling labels are an excellent choice for indoor window applications as they can be positioned anywhere to ensure maximum visibility. These labels can be used on car windows or windshields and also inside office buildings. We offer back or face static cling on clear or white static vinyl, providing you with a range of options to choose from.
Custom-Shaped Labels
Custom-shaped labels can be a great way to showcase your out-of-the-box marketing ideas. Laser die-cut labels offer flexibility in terms of shapes and sizes, without the need for custom dies. Our team of professionals can help you create the perfect label designs that align with your brand and business goals. If you're looking for expert advice on branding or any related services, feel free to contact us. We're always here to help you grow your business.
Durable Decals
If you're looking for long-lasting decals that can withstand harsh weather conditions and remain vibrant for years, FORMost Graphic Communications has got you covered. Our durable decals for cars and other vehicles are of high-quality and can retain their color for up to four years, even in strong sunlight and storms.
Business Cards
Business cards are an essential tool in the world of business. They are a must-have for every appointment or advertising opportunity. Unlike other types of marketing collateral, people are more likely to keep a business card, whether it is in their wallet or on their fridge. As a result, a business card is an effective means of promoting your business and making a lasting impression on potential clients and customers.
Trust FORMost Graphic Communications for Printing and Marketing Needs Today!
FORMost Graphic Communications proudly provides high-quality print and marketing solutions that produce results for your business. Since 1985, we have been providing an array of services for both national and international clients across a wide variety of industries, including all levels of government. As a privately-held company based in the Washington DC area, we are dedicated to providing exceptional services and products to each of our client's unique marketing needs. To learn more about our products and services for your marketing and print needs, contact us today at 301-424-4242, or visit us on Facebook, Twitter, or Linkedin for more information.