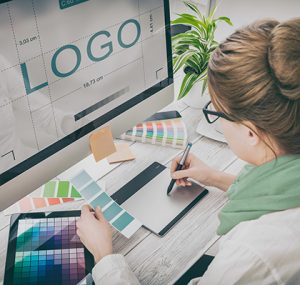 The purpose of graphic design is to convey a concept or message visually. You must know a few crucial graphic design components to accomplish this. Continue reading to learn more about the different elements of graphic design.
Lines
To make your shapes, you'll employ lines frequently. They can be geometric (often created using a computer or a ruler) or organic (typically created by drawing freehand and taken directly from nature). Ensure the elements are correctly aligned and symmetrical while creating your forms or designing a logo using your software.
Shapes
You'll frequently draw your shapes using lines. They can be geometric (often created using a computer or a ruler) or organic (typically derived from nature and created by hand). Remember to use your program while creating custom shapes or designing logos to ensure the components are evenly spaced and symmetrical.
Form
Giving your shape form, another crucial component of graphic design, by making it three-dimensional. Similar to shape, there are geometric and organic forms, and they have quite distinct effects. Geometric forms often transmit order and appear sterile, while organic forms have a more natural feel.
Textures
Your designs' surface characteristics, or "texture," can give your piece a new dimension. You may add texture to lines in graphic design in various ways, such as creating your brushes and patterns, utilizing opacity masks to provide grain textures, or combining colors. Remember that adding texture to images frequently requires a lot of computing power, so you must have access to the necessary equipment.
Space
When developing your materials, remember that positive space is the design's focal point, and negative space is the background. It's possible to employ positive space in a way that recedes as your eyes trace down the design or to use negative space to lead the eye toward a feature in the background.
Imagery
Images have a significant impact on how well a message is received. Understanding how to use them properly is crucial to get the most out of them. Choose first whether you want to add a touch of reality with a photo, help readers visualize important information with an illustration, or make the message easier to comprehend using icons. Choose appropriate pictures for the situation, convey the intended message and tone, and appear authentic to produce a unified design. Refrain from using stock photos that are too staged, have low resolution, or are otherwise challenging to understand in the context of your design.
Typography
Typography is another fundamental component of graphic design that you must comprehend because many designs use some copy. Headers typically call for a show typeface when choosing typefaces. While they attract attention, if utilized for blocks of text, they are distracting and challenging to read. While serif and sans serif fonts are simpler to understand, you should use them only for body copy instead of the contrary.
Color
You might believe there are no limits to the color palettes you can use, but one of the most important aspects of graphic design is knowing how to use the color wheel to select the appropriate tones. When choosing your color scheme, stick to cool or warm hues rather than combining the two. You might also choose complementary colors, triad colors, or monochromatic colors.
Trust FORMost Graphic Communications for Printing and Marketing Needs Today!
FORMost Graphic Communications proudly provides high-quality print and marketing solutions that produce results for your business. Since 1985, we have been providing an array of services for both national and international clients across a wide variety of industries, including all levels of government. As a privately-held company based in the Washington DC area, we are dedicated to providing exceptional services and products to each of our client's unique marketing needs. To learn more about our products and services for your marketing and print needs, contact us today at 301-424-4242, or visit us on Facebook, Twitter, or Linkedin for more information.