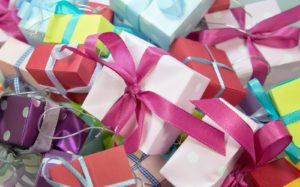 Everyone loves gifts, especially useful ones. Companies do well to give both their clients and employees goods from time to time. Gift-giving encourages goodwill and strong relationships between people, not just personally, but professionally as well. The presents of the business world are known as promotional products. While strengthening relationships, it is also a way for companies to become more visible to the public.
Start with the Logo
To make the most of your promotional products, start with an attractive logo. This is not usually the place where people start when figuring out their strategy, but it is a crucial unspoken step. The logo should be apt, creative, and designed by a professional. If it is not appealing to the eye, employees and customers alike will not care so much for your gift, no matter how useful it is.
Create an Inventory
Considering to whom you want to give out promotional items, create a diverse inventory of promotional products. You want to have a variety of gifts so that recipients find the whole collection more desirable to own. Research the most popular promotional products today, or consider what items your customers might like best. You could also choose products based on what your company does. If you are thinking of gifting items to people based on how much they have supported your business, you can order your inventory in tiers. 
Free Gifts
As for the distribution, there are plenty of opportunities to hand out free gifts to your clients. Trade shows, craft fairs, e-commerce deliveries, fundraising events, and corporate parties are popular ways of slipping in a freebie. It's a fantastic host who gives the guest something to take home. Especially if you hand the product to someone personally, that person is more likely to keep the gift around for a while. As mentioned earlier, rewarding or thanking people for their contributions to the business is another way to use promotional products effectively. The logo will remind them of your brand and their relationship to it.
Trust FORMost Events & Promotions for Print and Marketing Needs Today!
FORMost Graphic Communications proudly provides high-quality print and marketing solutions that produce results for your business. Since 1985, we have been providing an array of services for both national and international clients across a wide variety of industries, including all levels of government. As a privately-held company based in the Washington DC area, we are dedicated to providing exceptional services and products to each of our clients' unique marketing needs. To learn more about our products and services for your marketing and print needs, contact us today at 301-424-4242, or visit us on Facebook, Twitter, or Linkedin for more information.