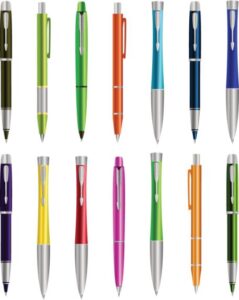 Marketing is a crucial part of your business, and a good marketing strategy should incorporate digital and physical marketing items. However, not all products are equal. In this article, we will discuss four highly effective promotional products that could be precisely what you need to advertise your business, services, or products.
Pens
Promotional items are an essential part of any marketing campaign, and among the most popular choices are pens. Pens' universal appeal and practicality are a great way to get your brand noticed and remembered. Pens are a versatile and practical vehicle for showcasing your logo or message, whether used daily at home or in the office or given away at trade shows and events. While a standard pen may offer little space for additional information, having your brand name on a pen can keep it at the forefront of your customers' minds.
Clothing
When it comes to giveaways, clothing is a popular choice. However, it can be a little expensive compared to pens. But if you invest in well-made clothing, it could also be sold as a sales item. T-shirts, sweatshirts, and hats are popular options. You can add your logo and information about your company, like your website, on them. Good graphic design is vital to make your clothing more appealing and likely worn by people.
Water Bottles
Water bottles have become increasingly popular as people shift towards more reusable items. They are often the first step people take towards reducing their reliance on single-use plastic. They make a great giveaway item as they hold more value than a pen and can carry your logo, promoting your brand to a broader audience.
Unique Items
Consider something unique to your industry instead of giving out a generic promotional item like everyone else. For example, if you sell craft beer, you could give away bottle openers; if you're an author, bookmarks would be a great option; and if you're an auto detailer, a vent-mounted phone holder could work well. The possibilities are almost endless, and the value of your promotional item increases significantly when it's directly related to your business.
Trust FORMost Graphic Communications for Printing and Marketing Needs Today!
FORMost Graphic Communications proudly provides high-quality print and marketing solutions that produce results for your business. Since 1985, we have been providing an array of services for both national and international clients across a wide variety of industries, including all levels of government. As a privately-held company based in the Washington DC area, we are dedicated to providing exceptional services and products to each of our client's unique marketing needs. To learn more about our products and services for your marketing and print needs, contact us today at 301-424-4242, or visit us on Facebook, Twitter, or Linkedin for more information.