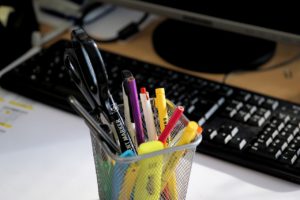 If you have your own company, you probably know how important creating the right impression is to prospective employees and customers. Marketing is the way businesses communicate their services to the community, and this involves various strategies. While the Internet is helpful, so is physical material. Besides direct mail marketing, business stationery also has a role to play. Below are the reasons why a company should invest in custom stationery, the products involved, and design ideas for them.
Reasons to Have Business Stationery
Business stationery is a tangible way of saying that you mean business. Having your company name, logo, and contact information on the paper means you have invested in this enterprise, and you intend to stick with it. Sending out messages and letters on paper customized for the company also adds to your professional look as well, giving a sense of organization and uniformity to your business gear. Offering business stationery to employees and customers also helps to spread the word that your company exists. You never know who may see it!
Must-Haves of Business Stationery
Stationery is what you think of: pens, notepads, letters, and more. However, you do not want to forget some other items that count in the total package. When sending out letters, what will truly seal your professionalism is the envelope you use. Not only are business letterheads necessary for conducting affairs, but custom envelopes will also tell the recipient exactly who sent it. Meanwhile, business folders or binders keep physical marketing materials handy, and calendars make fantastic and useful gifts. Besides these stationeries, FORMost Graphic Communications has many other products from which to peruse in their catalog.
Ideas for Your Business Stationery Design
When you have collected a list of products you may want for business stationery, you may wonder what goes into the design. What makes stationery, business stationery? The logo and company name may be enough for some products like small notepads and pens, but larger items can act as a place to put a business's contact information, year of establishment, and slogan. Whatever you decide to include, it needs to have an appealing, professional design.
Trust FORMost Events & Promotions for Print and Marketing Needs Today!
FORMost Graphic Communications proudly provides high-quality print and marketing solutions that produce results for your business. Since 1985, we have been providing an array of services for both national and international clients across a wide variety of industries, including all levels of government. As a privately-held company based in the Washington DC area, we are dedicated to providing exceptional services and products to each of our clients' unique marketing needs. To learn more about our products and services for your marketing and print needs, contact us today at 301-424-4242, or visit us on Facebook, Twitter, or Linkedin for more information.