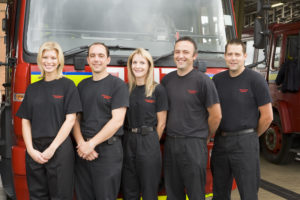 Selecting promotional merchandise to promote your business might be enjoyable, but what about corporate apparel? Corporate attire has numerous advantages that can help your brand in unforgettable ways. Is corporate attire worth the investment for your business? Continue reading to learn why your business should invest in corporate apparel.
Enhance Your Brand
A substantial investment in your company's brand will demonstrate to consumers and competition that you are professional and committed to your brand. An Item such as a rain jacket with your company logo helps convey how your business separates from the pack.
Solidarity Within Your Organization
Employees benefit from corporate attire as well. This common cause among employees promotes unity and, as a result, a stronger tie between the members of your company.
Create a Memorable Impression
Your corporation may be meeting with business partners, attending a trade exhibition, volunteering for a charity, or attending a public event. If your team appears in trendy attire with your company's colors and emblem, you'll be sure to create an excellent first impression. Others will take notice and are more likely to remember your company's name.
Increase Loyalty With Apparel Items
Corporate attire can also be used as a gift! Employees and loyal consumers can benefit from branded hats, T-shirts, activewear, and other items. A comfy shirt or an excellent accessory is always helpful and appreciated. People are still interested in incorporating leisurewear into their wardrobes, which combines comfortable clothing with activewear. However, expect to get employees enthused about dressing up in the office with a polo shirt. FORMost Graphic Communications can assist you in developing an excellent garment collection.
Trust FORMost Graphic Communications for Printing and Marketing Needs Today!
FORMost Graphic Communications proudly provides high-quality print and marketing solutions that produce results for your business. Since 1985, we have been providing an array of services for both national and international clients across a wide variety of industries, including all levels of government. As a privately-held company based in the Washington DC area, we are dedicated to providing exceptional services and products to each of our client's unique marketing needs. To learn more about our products and services for your marketing and print needs, contact us today at 301-424-4242, or visit us on Facebook, Twitter, or Linkedin for more information.