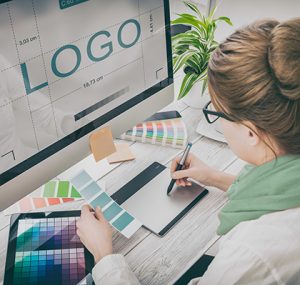 When starting a new business or reconsidering one's logo, it can be tempting to design the company logo yourself. How hard can it be? It's just a simple picture capturing your brand. However, that's exactly what makes it a highly challenging task. Below are some of the reasons why you should hire a logo designer.
Professional Image
If you want to make money in your business, you will have to spend money. If you want to look professional, you will have to put professional work into your company's image. Professional logo designers are experts in art and design, understanding the nuances of lines and colors and what they communicate. They have put thousands of hours into their craft so that they can deliver high-quality work.
Key Image
If there is any part of your company's image you should invest in, it's the logo. This simple image summarizes the story, mission, and mood of your company at once. The logo will also inform the design and color scheme of the website and branding materials like direct mail and promotional items. A logo designer will keep all these factors in mind during the design.
Save Time and Money
Because this small image is so significant, you will save both time and money in the long-run if you hire a logo designer from the start. You will not have to fill your evenings studying graphic design, researching software, and spending hours on trial and error. A lack of experience also means a lack of judgment when it comes to logo design, so it will be more difficult for you to evaluate the quality of your own work. A poor logo design can reduce your business's income.
Access to Much More
When you have the right image, you can communicate effectively with your audience. The logo is just the beginning, however. Because your logo must work well for online, direct mail, and promotional product applications, a fantastic logo design will enable you to reach out to your customers in all those other ways. A design, marketing, and printing agency can guide and provide you with all those options. Located in the Washington, D.C. area, FORMost Graphic Communications is here for your business's marketing and printing needs.
Trust FORMost Graphic Communications for Print and Marketing Needs Today!
FORMost Graphic Communications proudly provides high-quality print and marketing solutions that produce results for your business. Since 1985, we have been providing an array of services for both national and international clients across a wide variety of industries, including all levels of government. As a privately-held company based in the Washington DC area, we are dedicated to providing exceptional services and products to each of our clients' unique marketing needs. To learn more about our products and services for your marketing and print needs, contact us today at 301-424-4242, or visit us on Facebook, Twitter, or Linkedin for more information.