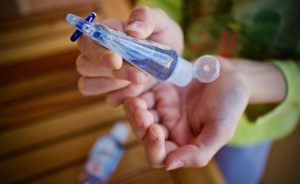 There are many benefits associated with businesses providing hand sanitizers for their employees and occupants. With the increasing concern about cleanliness and sanitation, businesses have begun looking for ways to increase their sanitization practices. As a result, they've incorporated more and more hand sanitizing options and stations in their facilities. In addition to providing proper handwashing protocols, having the necessary hand sanitizers available can significantly provide the relative relief and habits needed for people who are entering a business facility. Here are some of the incredible perks that come with giving hand sanitizers to customers and employees for businesses.
Proper Hand Hygiene Helps Everyone's Overall Health
Now more than ever before is the time to take hand hygiene seriously. The time to take the necessary measures to encourage proper hand hygiene is essential for businesses to get back up and running safely. Having hand sanitizers at the entrance or lobby of your business can provide comfort for those entering the facility and ease of ensuring they take the necessary measures to properly take care of their hand hygiene. 
Hand Sanitizer In Restrooms
Washing hands regularly is perhaps the best way that people can maintain proper hand hygiene. However, providing an additional layer to the hand hygiene measures like hand sanitizer can encourage people to have the proper tools needed to ensure their hands are clean and sanitized at all times. Providing hand sanitizing stations in restrooms can help alleviate the spread of diseases and illnesses — especially as COVID-19 runs rampant in many states. 
Portable Hand Sanitizers
Another way businesses can incorporate healthy hand hygiene practices among employees and patrons is to offer individual hand sanitizers as well. These convenient hand sanitizers ensure that everyone has the resources to keep personally sanitary when contacting frequently-touched items and when present with other people. FORMost Graphic Communications offers portable gel packs and sprays; with the spray version, employees can customize their own with one of many fun colors.
Bottom Line
Proper hand hygiene is made easier with hand sanitizers. Businesses should take into account the severity of maintaining proper hand hygiene and make it a priority for their business, particularly as states begin opening up at the waning of the COVID-19 pandemic. 
Trust FORMost Events & Promotions for Print and Marketing Needs Today!
FORMost Graphic Communications proudly provides high-quality print and marketing solutions that produce results for your business. Since 1985, we have been providing an array of services for both national and international clients across a wide variety of industries, including all levels of government. As a privately-held company based in the Washington DC area, we are dedicated to providing exceptional services and products to each of our clients' unique marketing needs. To learn more about our products and services for your marketing and print needs, contact us today at 301-424-4242, or visit us on Facebook, Twitter, or Linkedin for more information.