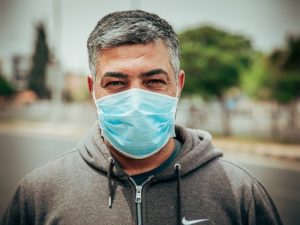 Businesses are getting ready to reopen, which means employers are looking for ways to best keep everyone safe when they return to the office. Meanwhile, healthcare workers are still at it, working hard as they have been during these trying months. Both groups need personal protection equipment and ways to enforce social distancing. FORMost Graphic Communications provides just those materials for your business in the States and across the globe.
Hand Sanitizers
Two of the tenants of practicing excellent hygiene are to wash hands and reduce the number of shared materials. A fantastic way to start off work back in the office is to gift your employees with personal hand sanitizers. FORMost provides travel-sized squeeze or spray devices. With the spray version, you can choose from multiple fun colors. They also have a 4 oz. gel pack that slows its flow when its supply gets low. All these are available on a first-come, first-serve basis and require a quantity of 250 per order. 
Surgical Face Masks
FORMost Graphics' surgical face masks are in high demand. Currently, the demand is so high that they are limiting orders shipped in 2-3 days to 1,000 masks total. If the order exceeds 1,000 total, FORMost may deliver them in 2-3 weeks. Their surgical masks are latex-free, well-fitting, and made of breathable but pathogen-resistant material. They are manufactured in an FDA-certified facility.
Cotton Face Masks
Businesses outside of the healthcare industry may benefit from the versatile cotton masks that come in a pack of 25. They come in 14 different colors, so your employees can customize their mask to their liking. FORMost can also artfully print your company logo on a lower corner of the mask. These masks are washable, reusable, and breathable.
Office Signage
As a printing company, FORMost has also expanded their printing services to aid companies in reminding employees to practice health and safety measures. For areas where a friendly reminder would come in handy, FORMost can print banners of all kinds with your logo on it.
Social Distancing Markers
It can be hard to keep a certain distance from everyone in a high-traffic area. That's why FORMost is also delivering indoor and outdoor circular decals for individuals to stand on. Indoor surface grips and outdoor surface tacs are reliable means of thinning out generally congested areas. If you have any questions, contact FORMost Graphic Communications!
Trust FORMost Graphic Communications for Print and Marketing Needs Today!
FORMost Graphic Communications proudly provides high-quality print and marketing solutions that produce results for your business. Since 1985, we have been providing an array of services for both national and international clients across a wide variety of industries, including all levels of government. As a privately-held company based in the Washington DC area, we are dedicated to providing exceptional services and products to each of our clients' unique marketing needs. To learn more about our products and services for your marketing and print needs, contact us today at 301-424-4242, or visit us on Facebook, Twitter, or Linkedin for more information.